About us
Doctor Vladimir Idfelchik (Nemolchev)
Magister of Cosmoenergetics, Progressor.
Laureate of the "Best Healer in Russia of the Last Decade of the 20'Th Century" contest.
Registered in the International Healer Registry (10-0037).
Head of the ANAHATA International Center for Cosmoenergetics.
Our International Center for Cosmoenergetics ANAHATA delivers a powerful and effective method of holistic solution for health and destiny issues.
You may also learn techniques for treating specific diseases and resolving energetic problems. We deliver individual and group healing sessions.
The method teaching depends upon group forming.
My way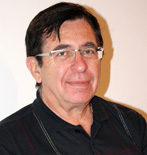 I was moving through hard times, when years of accustomed life ended. I had no perspective; there was nothing to fill the emptiness of rather existence than life.
They say it's wise to follow the hints of life. By a mere chance I discovered a book about Emil Baghirov and his method. I found the core of the method simple and comfortable, not demanding for an inborn facility, but rather and only for a will and time. I have found my salvation in this method. My attitude and self-awareness became deeper and brighter. The cosmoenergetics has answered a lot of my questions, transformed me spiritually, restored the peace of mind, and opened my eyes.
Wisdom says that everyone chooses one's way and those to walk it with. Only a Seeker goes further, defeating fear, doubt, and prejudice, to find harmony and the knowledge of self. I have chosen this way deliberately, and I am thankful to God for this decision.
The way of a Warrior is hard. Some stop and enjoy the achieved considering oneself not worse than the others; but not the Afflicted one. The Afflicted shall go on. He is not afraid, he is not waiting for help; he knows that each and every test is but a step towards the top. I have felt myself walking this way.
I learned to be happy every day of my life, to thank the Creator without distinguishing between the tests and presents of the fortune. I know how to open the tomorrow's door, and I want to transfer my knowledge, love, and gratitude on to those who seek for this way or want to take it.
Learning Emil Baghirov's cosmoenergetics method is open to everyone.
We help ourselves by helping others. We learn by teaching. 
Vladimir Idelchik