Instruction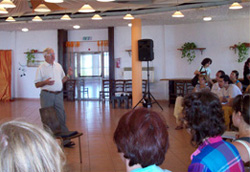 We deliver practical seminars where attendants study the methods of cosmoenergetic healing and energetic self-defense by helping others and themselves. We also teach practice of enhancing the energy of certain organs and energy centers (chakra). The practice includes mingling of the cosmoenergetics with other alternative and traditional therapy.
"Twelve Signs of Your Awakening Divinity"
after Geoffrey Hoppe and Tobias
Body aches and pains, especially in the neck, shoulder and back.
Feeling of deep inner sadness for no apparent reason.
Crying for no apparent reason.
Sudden change in job or career. This is quite a typical effect.
Withdrawal from family relationships. You are connected to your biological family via old karma. When you get off the karmic cycle, the bonds of the old relationships are released.
Unusual sleep patterns. It's likely that you'll awaken many nights between 2:00 and 4:00 AM.
Intense dreams. You are literally releasing the old energy within.
Physical disorientation. As your consciousness transitions into the new energy, you body sometimes lags behind.
Increased "self talk." There is a new level of communication taking place within your being.
Feelings of loneliness, even when in the company of others. As one who's awakening, you are walking a sacred and lonely path.
Loss of passion. It's just part of the process. Take this time to "do no-thing."
A deep longing to go Home. This is not a "suicidal" feeling. There is a quiet part of you that wants to go Home.
www.crimsoncircle.com